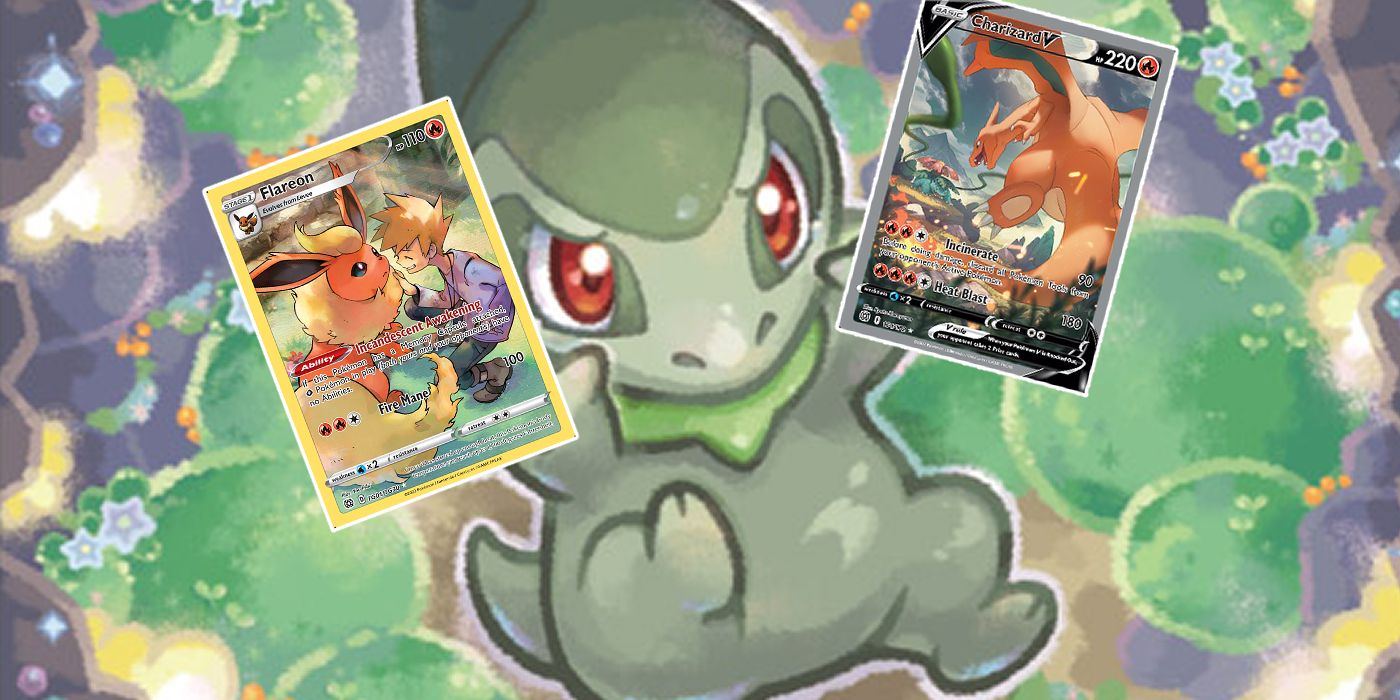 With over 170 cards and a 30 card subset, the latest Pokémon: Trading Card Game expansion, Sword & Shield – Brilliant Stars has a fantastic variety of cool card art, especially for the full art cards. Officially released on February 25 after a few weeks of pre-release, Brilliant Stars introduces the new VSTAR game mechanic with four new cards. This may seem like a small number, but the set makes up for it with plenty of Pokémon V, VMAX, and lots of full art cards.
Full art Pokémon: TCG cards, which first began print in the Black & White era, are special versions of existing cards. While most cards have their art in a box with the card effects on a colored background, full art cards have art that touches the card's outer border, or in some cases even covers the border itself. Some cards, like Pokémon V and VMAX cards, may seem like full art cards at first, but aren't classified as such. Pokémon V art actually fades into a plain color near the bottom, while their full art equivalents usually just show the Pokémon on a plain background. Pokémon VMAX cards look much more like full art cards, and as such typically only get Rainbow Rare or alternate art versions rather than a dedicated full art version.
Related: Pokémon TCG: All Brilliant Stars VSTAR Cards
Brilliant Stars includes the regular Pokémon V full art cards, which tend to feel rather lackluster since they're just the specified Pokémon on top of a colored background. But the set also contains alternate art cards featuring beautiful illustrations that take up the entire card space with the relevant Pokémon in a fleshed-out environment, and sometimes even with other Pokémon. Some of these cards are among Pokémon: TCG Brilliant Stars' most valuable, as they feature popular Pokémon and are very rare, making them great collector pieces. But Brilliant Stars also includes a subset: the 30-card Trainer Gallery. These cards include full art Supporter cards featuring popular Trainers from the Pokémon series, as well as Pokémon cards that showcase the Pokémon alongside their Trainer. Brilliant Stars has enough variety in its full art cards to appeal to any fan; here are some of the coolest ones.
Pokémon TCG: Brilliant Stars' Flareon Full Art Card Shows A New Side To Rival Blue
Blue is an iconic rival character in the Pokémon series. This video game character was the inspiration for the anime character Gary, who is infamous for his attitude towards Ash. Blue's one-sidedness in the original Red and Blue versions has been supplemented over the years by additional appearances in Gold, Silver, and Crystal, Sun, Moon, Ultra Sun, and Ultra Moon, and even Pokémon Masters EX. But despite Blue's many Pokémon game appearances, he isn't on many Pokémon: TCG cards. His two Supporter cards from the Sun & Moon era – "Blue's Tactics" and "Red & Blue" – had their own full art versions, but have been mostly forgotten.
In Brilliant Stars, Blue features on not one but three different Trainer Gallery cards, one each for Jolteon, Vaporeon, and Flareon. Each has their own fantastic art done by different artists, but Flareon's feels particularly distinct. Blue is known for his aggressive and oftentimes rude demeanor in Red and Blue, so to see him in a more personable moment with his Pokémon is really something special. The small detail of what appears to be burn marks on Blue implies that there may have been a mishap during training with Flareon – and yet the normally annoying Pokémon rival Blue is petting Flareon with kindness. Although the Jolteon card portrays an epic battle moment and Vaporeon's an instance of exploration, Flareon's card gives fans a glimpse at a whole new side of Blue.
Dedenne Full Art Card In Pokémon TCG: Brilliant Stars Is Vibrant And Silly
Some of Brilliant Stars' Trainer Gallery cards feature generic Trainer NPCs rather than specific characters; this is a great opportunity to utilize their unique designs in new settings. The Dedenne full art character card includes one of the four designs of Furisode Girls, the Trainer class from X and Y. In her first-ever Pokémon: TCG appearance, the Furisode Girl – using the black hair with pigtails design – seems to have lost control of her Dedenne, one of the Pokémon series' Pikachu-esque "Pika-clones." The silly Pokémon is knocking over a sewing machine and ripping apart rolls of fabric – which are colored to match the other Furisode designs – and its Trainer is struggling to catch it.
Related: The Most Unique Pokémon Card Art
Dedenne's art utilizes bright, vibrant colors and thick outlines to give it an energetic and stylized feel. The fabrics referencing the other Furisode Girls is a clever detail, and the overall composition includes just enough Dedenne to ensure it's the focus of the card, while still letting the Furisode Girl take up her fair share of image space, too. It would have been nice if this version of Dedenne had the "Mad Party" attack so it could see more competitive play, but in terms of its art, this Brilliant Stars TCG card is highly memorable, and a fun throwback to one of Pokémon X and Y's Trainer classes.
Pokémon TCG: Brilliant Stars Includes Another Charizard Card, But Its Art Is Stunning
Charizard is incredibly overused in Pokémon: TCG. Its cards are very popular, but it's nice to have a break from the dragon-like starter every once in a while. Although Brilliant Stars isn't one of the sets to step away from this frequently recurring Pokémon, it makes up for it with a genuinely fantastic full art card. Charizard V's alternate art variant features a lovely environment with beautifully rendered clouds, mountains, trees, and boulders. Embers from Charizard's tail flame blur in with blades of grass to create a dynamic foreground element, and a Venusaur off in the distance reaches for Charizard with a Vine Whip that blurs at just the right place to indicate its strength and swiftness. While it's definitely understandable why some fans are tired of seeing Charizard everywhere – to the point where Charizard's exclusion from Pokémon Legends: Arceus was celebrated – Charizard V's impressive alternate art card makes its inclusion in Brilliant Stars worthwhile.
Pokémon TCG: Brilliant Stars' Zekrom And N Full Art Card Is Like A Gorgeous Painting
One of the best parts about the Pokémon TCG is seeing all the different artists' interpretations of the Pokémon world. Each artist brings their own unique style to the cards which makes them entirely distinct, and Brilliant Stars' Zekrom Trainer Gallery card is no exception. This card features N soaring across the sky atop his trusty partner Zekrom. The art uses minimal trapping lines and a textured brush for coloring, giving the card a painterly feel. Zekrom and N emerging from the pink clouds, with wisps and droplets streaming off Zekrom's body, adds movement to the composition. From behind the duo, the sun peeks from beneath a cloud, and the sky's gradation from light to dark conveys the breaking of dawn.
Before Pokémon Masters EX added N and Zekrom as a sync pair, N had been mostly portrayed with the legendary Pokémon Reshiram in Pokémon media. The anime, the Pokémon Generations animated miniseries, and even Japan-exclusive Pokémon Center merchandise lines would pair N with Reshiram, leaving the Pokémon Adventures manga series as the only major piece of media besides Black Version to show N with Zekrom. Once Masters included N with Zekrom, however, other media followed suit, with the Pokémon Evolutions miniseries and now this Pokémon: Trading Card Game Brilliant Stars Trainer Gallery card. The Cosmic Eclipse Reshiram & Zekrom Tag Team GX card features N with both dragons and its own set of beautiful illustrations, but the Brilliant Stars' Zekrom card's composition and rendering make it feel like a full-blown painting.
Next: You Should Get Pokémon Cards Authenticated On eBay While It's Free
Every DCEU Movie Ranked From Worst To Best (Including The Batman)
About The Author